Work That I Love
Lawrence Weschler on "Girls Turning Away," from
Everthing that Rises: a Book of Convergences.
Gerhard Richter, Betty, 1977
Gerhard Richter, Grey Mirror, 1991
Gerhard Richter,
Confrontation 2 (Gegenüberstellung 2). 1988. Oil on canvas, 112 x 102 cm
Diego Velazquez,
Rokeby Venus
, c. 1647–51. 122cm x 177cm (48in x 49.7in)
Gerhard Richter,
Confrontation 1-3
(1988)
Julie Heffernan
From her website, her Statement on her recent work:
I grew up in the West, so am inclined towards mighty spaces. Thomas Cole and Albert Bierstadt's grand landscapes make perfect sense to me. Our family's version of a cheap vacation was camping in gorgeous National Parks such as Yosemite and Lassen. Like Cole, the places we visited got us as close to god as we could possibly imagine being. At the same time, they represented what we had lost.
My recent work is focused on making sense of the world around me after calamities such as Hurricane Katrina and the BP oil spill. We are slowly making our world unlivable, and I want to bring to the surface the destructive action, waste, and contamination that is generally invisible to us. I need to imagine another way, to outfit myself with signs and banners that speak louder than I can, to envision how we might remake the world as it is slowly falling apart.
I have always been up for a good journey and that is what painting offers me. Like the game Chutes and Ladders, the basic thrust of which – flying down slides and plodding up pathways – I always loved as a kid, my work allows the eye to meander through spaces, across rivers, get lost in thickets, singed by forest fires, pass by warning signs and under control towers that speak, in smoke signals, to our great distress.
Julie Heffernan, Self Portrait with Cargo, 2014 from her website
Oil on canvas, 68 x 66 inches
Julie Heffernan, Self Portrait as Emergency Shipwright, 2013
Oil on canvas, 60 x 84 inches
Julie Heffernan, Self Portrait as Boy in Flight, 2011
Oil on canvas, 52 x 68 inches
Julie Heffernan, Self Portrait as Spill, 2007 See more of Heffernan's work here.
Oil on canvas, 68 x 60 inches
from a Statement about Celmins at C4 Contemporary Gallery
Apart from being an incredibly accomplished 'technician', which is perhaps MOST of the reason that attention is bestowed upon Vija Celmins, there is a tenacious - even obsessive quality seen in her works - at least in the aggregate. And so, syntactically - they fascinate. That is to say that seeing a collection of her work over time is rewarding... to explore the variations in treatment, framing, subject matter and technique. And it is a fascinating exploration, a controlled one at that, into the psyche of an artist and a human being. This is perhaps the most powerful aspect of her work -and the aspect that you will RARELY hear being talked about. This is where we discuss thematics. There are several enduring themes running through her work which appear time an again - all loosely intimating a sense of mortality - the ocean(water)... the night sky... the spider web... disasters. The universality of such existential tropes resonate soundly with all of us.
But it's not even so simple. The degree to which craft is exercised embeds a layer of communication, a layer of intimacy - in her work which is all but absent in the conceptual musings of the last 20-30 years of efforts by our best artists. She exposes us to a level of mastery and that is haunting that we wish not acknowledge nor discuss because it's not convenient to the narrative of the 'contemporary'. I think that Celmins' work provides a reminder of the soulful aspect of art that is all too often missing these decades. It is a challlenge that needs to be answered.
Vija Celmins, Big Sea II, 1965
Vija Celmins, Ocean, 2005
Vija Celmins, Night Sky, 2005
Vija Celmins, Suspended Plane
, 1966
Vija Celmins,
To Fix the Image in Memory,
1977
Vija Celmins,
To Fix the Image in Memory,
1977
Vija Celmins,
To Fix the Image in Memory,
1977
The MOMA owns 12 pairs of Celmin's rocks and cast rocks. The label content: "For this work, Celmins made bronze casts of eleven rocks and then painted the casts to resemble the original stones as closely as possible. In an interview, she recalled, "I got the idea for this piece while walking in northern New Mexico picking up rocks, as people do. I'd bring them home and I kept the good ones. I noticed that I kept a lot that had galaxies on them. I carried them around in the trunk of my car. I put them on window sills. I lined them up. And, finally, they formed a set, a kind of constellation. I developed this desire to try and put them into an art context. Sort of mocking art in a way, but also to affirm the act of making: the act of looking and making as a primal act of art." By having each original rock installed with its duplicate, Celmins invites the viewer to examine them closely: "Part of the experience of exhibiting them together with the real stones," she has said, "was to create a challenge for your eyes. I wanted your eyes to open wider." from
MOMA
Great Piece on Celmins' work
here
.
Vija Celmins, Heater 1964
Oil on canvas 1205 × 1219 mm
Gerhard Richter
And what is it that connects Vermeer, Palladio, Bach, Cage?
It's that same quality I've been talking about. It's neither contrived, nor surprising and smart, not baffling, not witty, not interesting, not cynical, it can't be planned and it probably can't even be described. It's just good. I Have Nothing to Say and I'm Saying it, Conversation between Gerhard Richter and Nicholas Serota, Spring 2011 From Richter's
website
Sally Mann
Sally Mann, Jessie Bites, 1985
Sally Mann, Night Blooming Cereus, 1988




Sally Mann, Jessie at 12, Before and After, 1994
Sally Mann, Virginia...
Sally Mann, The Last Time Emmet Posed Nude
Sally Mann, Emmet, Virginia, Jesse
Sally Mann, Virginia...
Sally Mann, The Big Girls, 1992
Sally Mann, from Southern Landscapes, 2010
Francesca Woodman
Francesca Woodman, House #3, 1976


House, 2, Providence, Road Island, 1976
Space, 2, Boulder, Colorado, 1976

Nicholas Nixon: Brown Sisters since 1975
Emmet Gowin: everything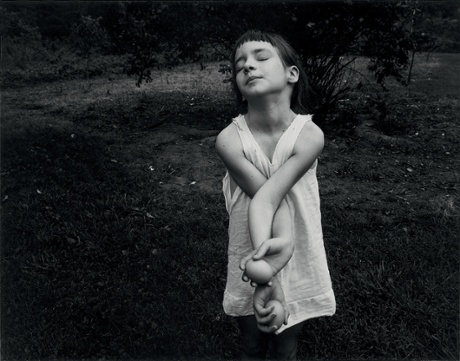 Emmet Gowin, Nancy, Edith's niece in Danville (Virginia), 1969